"I want to be somebody when I grow up, I wanna be a huge star—not physically, but I want to be big. I wanna be the next Halle Berry-slash-Jim Carrey, with that Oprah Winfrey money—you know, motherf–kin' rich."
Seriously, where has Tiffany Haddish been all our lives?
Hard work matters, but the arguably ingenious casting of her in Girls Trip points to the importance of snagging that one key role, because otherwise, the 38-year-old comedian could still be hiding in plain sight. Melissa McCarthy knows. Taraji P. Henson knows. Hell, Jim Carrey knows.
After killing it in Girls Trip, which came out in July 2017, Haddish appeared in a Jay-Z video, hosted Saturday Night Live, won a New York Film Critics Circle award, announced the Oscar nominees, starred in a Super Bowl commercial, presented at the Oscars, hosted the 2018 MTV Movie and TV Awards and, most recently, presented at and won an Emmy for her SNL gig. She was in Uncle Drew this past summer and on the TBS sitcom The Last O.G. with Tracy Morgan; co-stars with Kevin Hart in Night School, out Friday, and with Ike Barenholtz in The Oath, out next month; and she shot the mob drama The Kitchen with McCarthy and Elisabeth Moss. Oprah is now surprising her!
And this is an incomplete list of what she's been up to. Someone with a weaker constitution could get vertigo from such a speedy journey to the top.
But we know for darn sure that there is nothing not strong about Tiffany Haddish.
The breakout star, who not surprisingly is a finalist in the Comedy Act category for the 2018 People's Choice Awards, was not an unknown before she burst on the scene as if she'd been preparing for the scene all her life. She was a standout leading lady in the stolen-kitty comedy Keanu. Still, it's been a fairly whirlwind rise from familiar face to the woman the public is clamoring to see more of. She had been working the comedy club circuit since she was 15 (the above line is courtesy of some of her early work at the Laugh Factory Comedy Camp) and she'd been toiling on TV since 2005. Bigger roles started coming in 2013, with Real Husbands of Hollywood, If Loving You Is Wrong on OWN and, in 2015, The Carmichael Show on NBC.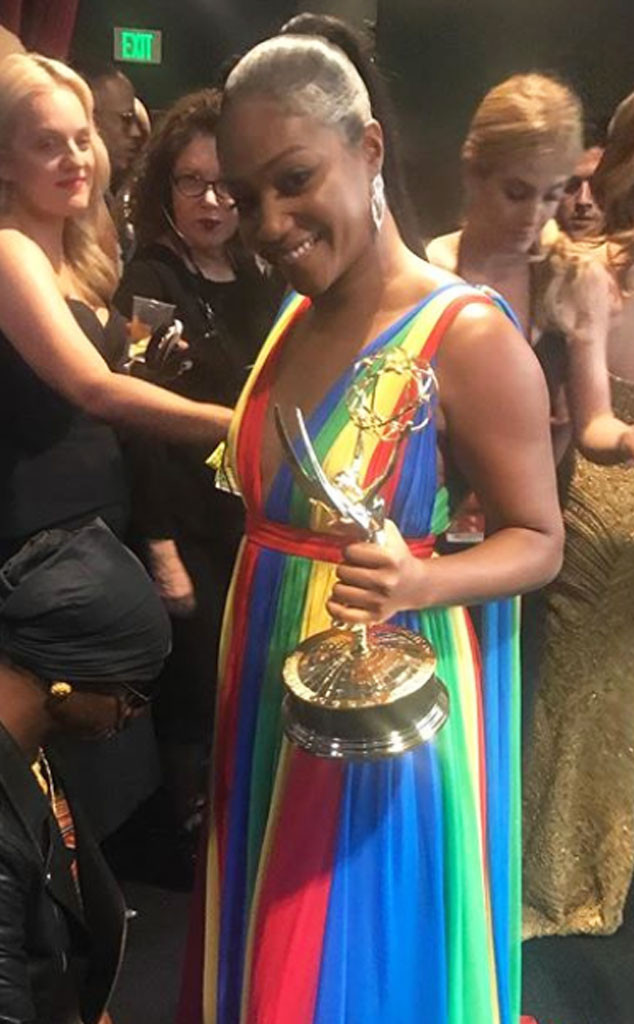 Instagram
Despite the on-stage confidence that she acquired at an early age, Haddish has candidly discussed in interviews and in her simultaneously heartbreaking and hilarious 2017 memoir, The Last Black Unicorn, about the at-times seemingly insurmountable obstacles in her way: when she was 13 her mother became abusive after suffering a head injury in a car accident, and was later diagnosed as schizophrenic; she was molested after entering the foster care system; she could barely read till the 9th grade and was basically faking her way through school till a teacher took notice; she married and re-married a man who was physically abusive; and after a fight one night he was arrested and she miscarried, having not even known yet that she was pregnant.
Even the title of her book is a glorious twist on a nickname kids used to tease her with in school, because of a wart she had on her face: Dirty ass unicorn. She recalled her grandmother freaking her out by telling her that HPV had caused the wart. When she found out that was not the case and it was just a common skin wart, a doctor burned it right off, and "that's how the Dirty Ass Unicorn died and the Last Black Unicorn was born."
And that's been a dominant theme in her life, finding the comedy in a situation. "Comedy is the instrument and the key to keeping me being positive and alive," she said on The Daily Show in December.
"I always try to find the bright side of anything dark going on, anything hard to deal with," Haddish explained on Good Morning America last year. "…Some things you just can't find nothing funny about it, but it's happening to you for a reason and probably to help others. That's how I feel. Share the story, share the experience and maybe it'll help somebody else in their journey."
And that somebody else isn't necessarily an up-and-coming comic or a young girl struggling with bullies—sometimes its a major celebrity. Haddish also recalled Mary J. Blige coming up to her to tell her that, when she was going through a tough time, Haddish had made her laugh so hard that she forgot about all of her troubles.
Haddish told Essence at the magazine's Black Women in Hollywood lunch in March that the support she's received from fellow black women in entertainment and her fellow comedians has been tremendous. "It feels amazing," she admitted. "You always wonder, 'Do my sisters care? Am I out here on my own, struggling?' They do care! You're not by yourself!"
Even when she was struggling, it sounds as though Haddish always had a knack for making other people feel great. (Eventually those other people would come to include Blige, Winfrey, Taylor Swift and Beyoncé.)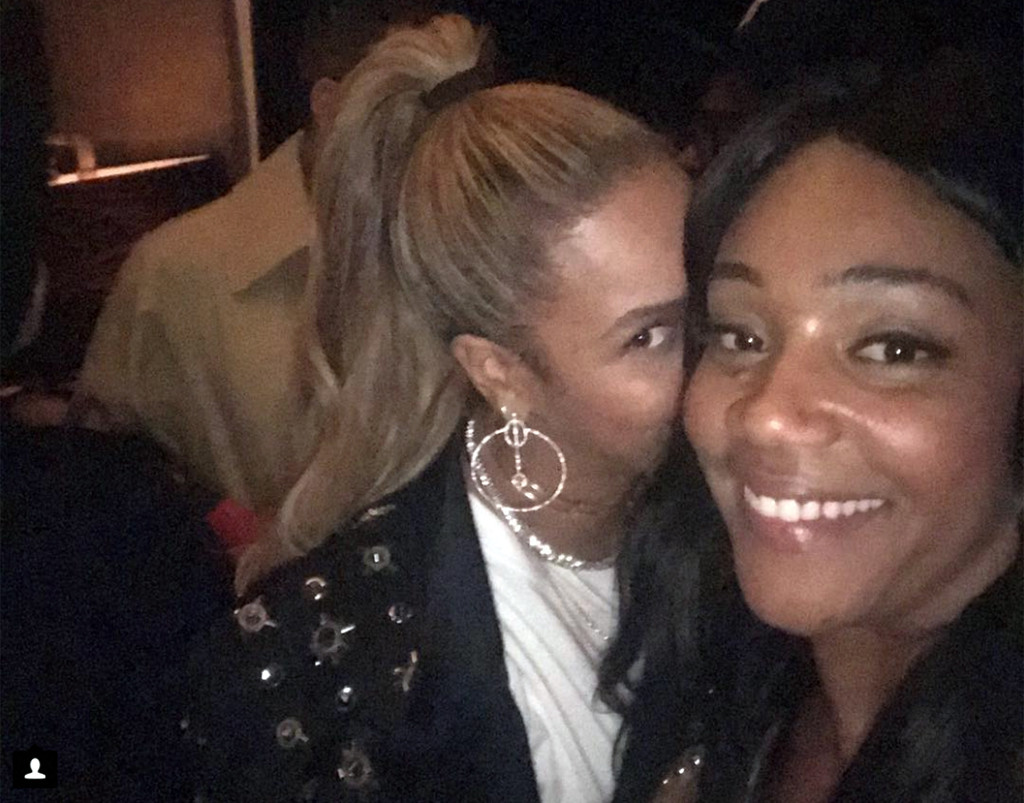 Tiffany Haddish/Instagram
In high school in L.A.'s San Fernando Valley she was a hit as the school mascot, even getting paid $50 a game, but when she quit that (she was more interested in having a boyfriend and 17-year-old boys had an aversion to being called the "assistant mascot") she became an "energy producer"—basically an emcee who gets people to dance—at Bar and Bat Mitzvahs.
"I was basically the Flava Flav of Bar Mitzvahs," she wrote. Haddish said that she temporarily quit the Bar Mitzvah circuit after successfully getting an old man on the floor, only to witness him have a heart attack and later pass away at the hospital. She refused to go back to work until after the man's daughter wrote her assuring her that she had just been doing her job, that he was quite old and they hadn't seen him looking that happy in a long time. 
"At that point they were paying me $400 a party," Haddish wrote. "The money was too good."
In the meantime she kept disrupting class with her antics and when she was 15, a social worker basically told her she could either go to the Laugh Factory Comedy Camp or start seeing a psychiatrist. The rest is history.
"I would tell a young Tiffany to figure out what it is you love, do that every single day and you will always make money. Don't doubt yourself… Never ever doubt it," Haddish told E! News in January. And while it would seem as if that's exactly what young Tiffany did, she knows now that it would've been nice to know then that she didn't need to waste her energy on people who were intent on keeping her down.
"I love to make people laugh and I'm making a living out of it," she continued. "I remember being a little girl and people telling me, 'Oh, you can't make any money doing that. You need to figure out something else to do and get a real job.' And look at me now. I'm doing exactly what I love to do and I'm making a great living from it." 
She's come a long way from Kevin Hart, whom she met at the Laugh Factory, giving her $300 to get a hotel room when he found out she was living in her car. "But it's crazy, because the next day I got a phone call and was offered an apartment," Haddish told Vanity Fair. "I go look at it, and it's like the most raggediest apartment you could ever imagine, it was just nasty and disgusting, roaches everywhere, cigarette stains in the carpet, the walls are all yellow from whatever, whoever was living there before smoking so much. It was just disgusting. The stove was full of roaches and the refrigerator was broken. It was all bad. The guy was like, 'It's $550 a month,' and I was like, 'It's perfect! I'll take it!'"
Hart also got Haddish her first big TV role, on his sitcom Real Husbands of Hollywood, so he obviously believed in her. (Meanwhile, she tried to pay him back the $300, but Hart refused. "He's like, 'I don't want your money. Just know your lines and be good in this damn movie.'")
In 2014 she debuted as the backstage correspondent on Arsenio Hall's return to late-night TV, installing a stripper pole in the green room so that men could do the performing for a change, challenging Chance the Rapper to a rap battle in Japanese, and encouraging Clay Aiken to make out with her to make Arsenio jealous.
While most people would assume that Girls Trip was her pivotal moment, Haddish considers performing for the first time on The Arsenio Hall Show her first major career milestone.
"The big moment for me was doing stand-up on The Arsenio Hall Show, to me, that was bigger than me doing Def Comedy Jam, that was bigger than me doing Live at Gotham, or The Tonight Show,or anything like that because I remember being a little girl watching [the original] Arsenio Hall Show, wishing I could hang out with Arsenio, be Arsenio's friend, or something in some kind of way," she told Vanity Fair.
"…When [his show] came back, I was like, 'Oh, this is my chance.' And, when I finally got a chance to do stand-up on there, to me that was like, 'I made it. Whatever comes after this is cake.'"
As for Girls Trip, which earned $115 million at the box office after costing a paltry $19 million to make, "it was like, 'Oh, good I got a job.'"
Months after its release, she became the first black female comedian to host SNL. She's been a guest on seemingly every other talk show since, from The View to The Tonight Show, and now she's leading cooking segments on Ellen and having Trevor Noah confess his love for her—and she's obviously having a ball with all of it.
Talking to E! News on the red carpet at the Oscars, she agreed that the prior 12 months were " really awesome. Been really great times, some bad times," she added, noting that her dad died over that same time period. But she recalled her father telling her, "'One day you're going to end up at the Oscars and when you go, you have to honor your people.' So I'm wearing an Eritrean, authentic princess dress, and I'm proud of it!"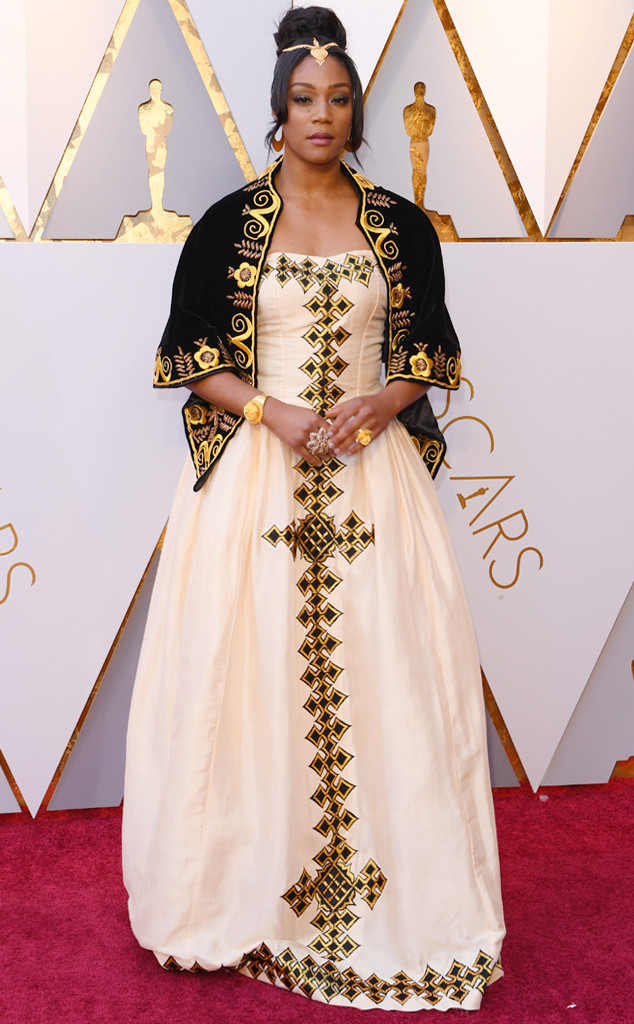 David Fisher/REX/Shutterstock
She showed off her traditional gown, called a zuria in Eritrea, and matching wrap.
Once she got inside, Haddish said, she was "looking forward to meeting Meryl Streepand asking her to be my mama" (which she did, from the stage). "I'm looking forward to having drinks with Whoopi Goldberg. I'm looking forward to doing the 'Nae, Nae' with everybody, and I'm definitely looking forward to doing my presentation."
Let's just say, that went well. By then Haddish had traded her heels for Ugg slippers and she and co-presenter Maya Rudolph slayed their bit, humorously wondering if the Oscars had now become "too black" after being "so white," and ultimately complimenting each other on their respectively memorable scenes in Girls Trip and Bridesmaids.
Tyra Banks (among others) tweeted that Haddish should graduate right into hosting the whole show next year.
Meanwhile, the master plan hasn't changed from when she was a teenager doing stand-up at comedy camp.
Haddish still wants to be "little baby Oprah, with my own production company, maybe my own channel, inspire millions," she told VF. "So, yeah. A little bit tiring from time to time. I'm learning how to manage time better now."
Asked recently on The Bill Simmons Podcast if she had a work limit, Haddish (who incidentally had been out somewhere the night before where she had the opportunity to sing Tina Turner's "Proud Mary" and Dave Chappelle sang a Lauryn Hill song) dismissed the idea.
"My work limit? I could do whatever I put my mind to," she informed Simmons. "I'm not doing a lot, maybe more than the average person because I have a work ethic—and you know, it keeps me out of trouble."
What sort of trouble?
"I might get married again," she replied, laughing, "and start cooking and cleaning and stuff. That's trouble." 
Haddish makes do with her famous 25-pound weighted blanket (her secret: spritz a little men's cologne on it) when she's craving a snuggle.
And even when she is ready to couple up, it won't be with just anybody. Referring Simmons to the long list of qualifications she provided to Men's Journal, she added, "First off, got to be fun to travel with, got to be loyal…got to have a mole on your left foot [as she does], got to like to dance, got to have nice hands, nice teeth, got to be physically fit—ain't got to be super fit, but you need to be physically fit. You gotta be able to pick me up and do things, hello!"  Also: he likes gardening and does not have kids. 
"I want to be No. 1, priority No. 1, but not so much priority where you're psycho-crazy about that." 
But for now, "I'm single, ready to mingle—but not mingling 'cause I ain't really that ready for it, 'cause I'm busy making money, building an empire." 
(This story was originally published March 6, 2018, at 6 a.m. PT)
Watch E!'s People's Choice Awards Sunday, Nov. 11, 2018 at 9 p.m., only on E!