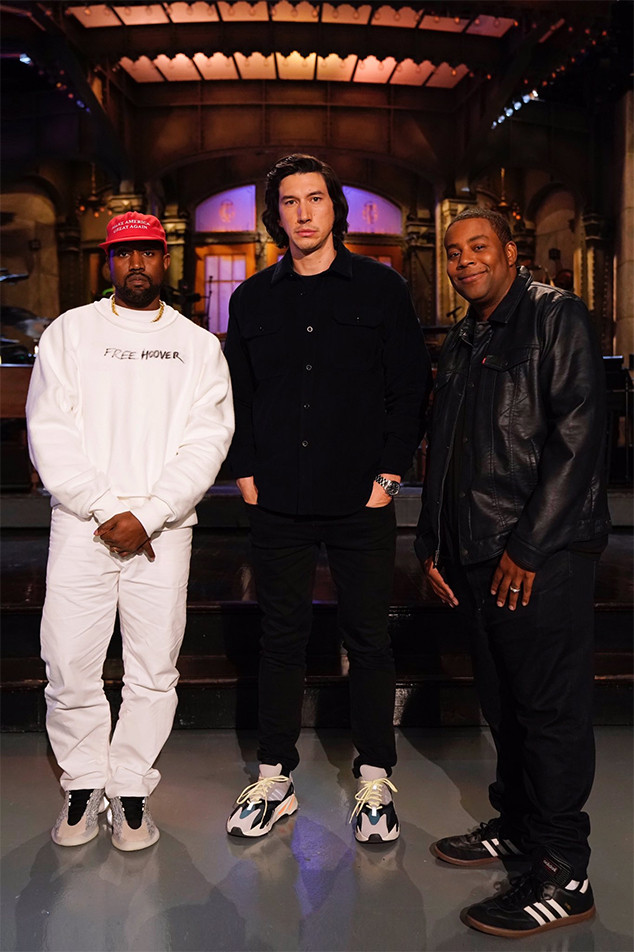 Rosalind O'Connor/NBC
Kanye West—now Ye—gave a fully Kanye-esque performance during the Saturday Night Live premiere.
In the show, West appeared onstage dressed in a blow-up Perrier bottle outfit alongside rapper Lil Pump, who wore an outfit resembling a Fiji water bottle. The two of them sang "I Love It" although many of the lyrics had to be bleeped out by the show.
Just like the original song, Adele Givens gave the spoken word beginning of the song. Their outfits onstage were a more reigned-in version of their clothes in the music video for the song, which is on Lil Pump's album Harverd Dropout.
At the end of the episode, Kanye sang "Ghost Town from Ye" with 070 Shake, Kid Cudi and Ty Dolla $ign. Kanye then gave a politically-charged speech about how he approves of President Donald Trump and his own plans to run for office in 2020.
"'So many times I talk to a white person about this and [they] say, 'How could you like Trump? He's racist,'" the rapper said. "Well, if I was concerned about racism I would've moved out of America a long time ago."
Chris Rock, who sat in the audience, posted some videos of Kanye's performances and speech on Instagram Stories.
In the week leading up to the SNL premiere with Adam Driver as the host, the "Stronger" rapper was seen around New York City donning a pro-Trump "Make America Great Again" hats, which he has been known to wear other times as well.
During the show, Kanye dropped his new album Yahndi.
In his broadcast, the rapper gave a shoutout to his friend Lil Wayne, who just released his own long-awaited album Tha Carter V. Ye tweeted, "we're releasing Yandhi Saturday night We know it will come in number 2 to my brother Lil Wayne and that's lovely The universe needs Ye and Wayne music at the same time." 
On Saturday morning, The Life of Pablo rapper announced that he was undergoing a bit of a name change. He told the world on Twitter, "The being formally known as Kanye West…I am YE."
Ariana Grande was originally scheduled to perform, but canceled at the last minute due to "emotional reasons." 
Don't miss E! News every weeknight at 7 p.m., only on E!