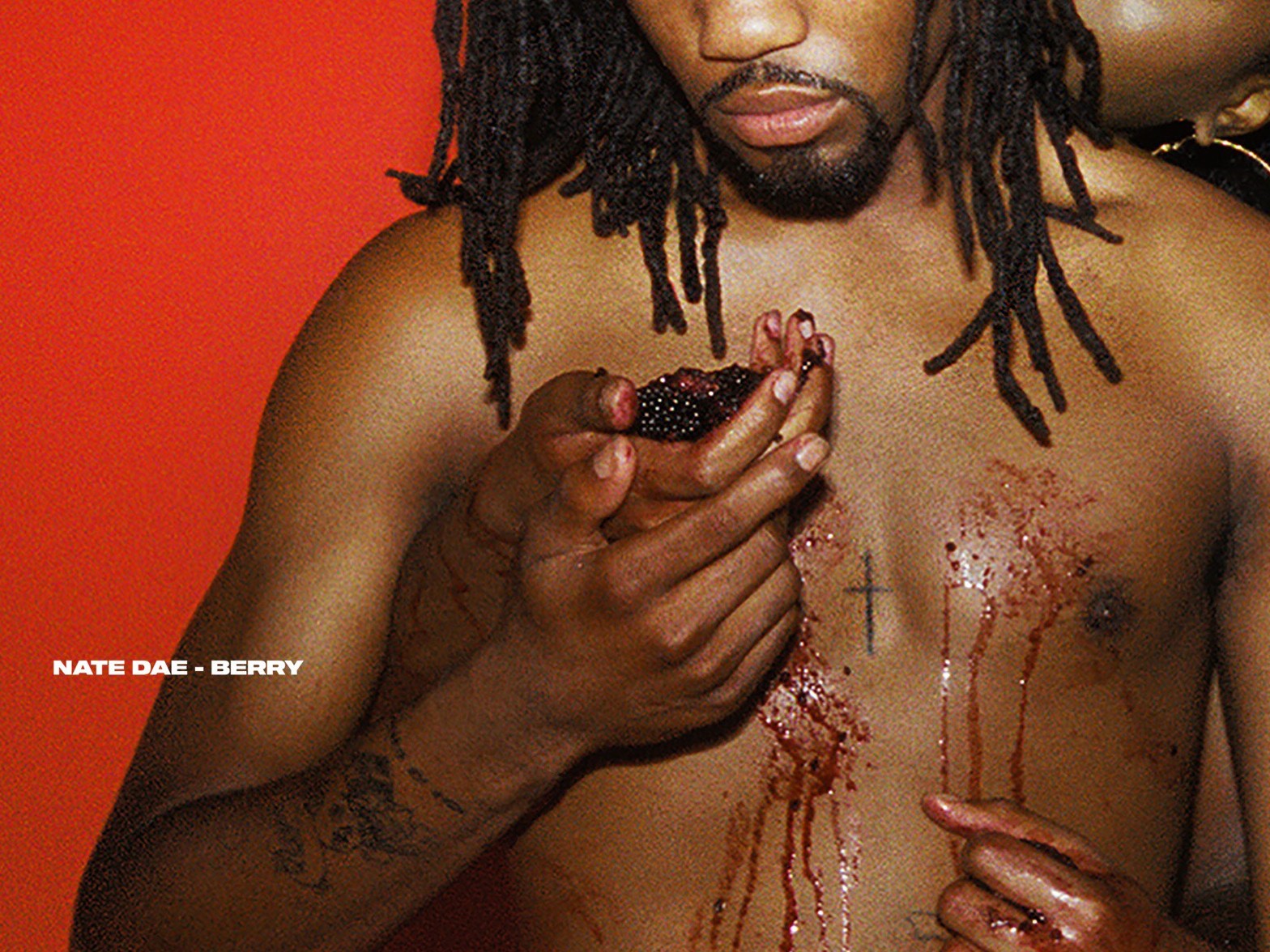 Who among us hasn't felt the dull ache of a love lost? It's one of life's most bittersweet offerings, an emotional knockout blow that reminds you what it is to be alive. It's been about a year since we've heard from Nate Dae. His impressive debut, California PSA, was produced as Dae completed a move from Jacksonville to Los Angeles. In the time since, he's been Brockhampton's houseguest, fostered the growth of his Off The Porch label, and used a deteriorating romantic relationship as fuel for the creative fires.
He's been through the industry gauntlet and emerges today with new music—"Berry" is the lead single off Dae's next project, Death by a Woman. "It's about my duck ass ex that cheated on me with an old roommate of mine while I was in New York," he told us over e-mail. "They both trash, end of story." 
That's in the past now. "Berry" is a sign of good things to come. Citing The Internet as a prevailing influence, Dae combines a stone-faced delivery with soulful harmonies that give the song a bittersweet, retro bounce. Listen to "Berry" on Apple Music or below, and revisit California PSA here.
What happened in your life between California PSA and Death by a Woman?
I've been busy making sure that the next project is the one that's really going to solidify me. California PSA was great; completely new sound/feel of the artist inside me, and finding this new side made me work harder than ever before. But I'm not done yet, I want more.  
You recently tweeted you haven't been happy since the last record came out. Is that a result of the music industry or personal turmoil?
A mix of both. I couldn't figure out what the next sound or sonic of my next project was going to be and for an artist, that shit is trash. I had no idea where to start and I was frustrated for months. I finally realized what the new project was going to be named and sound like after I took acid for the first time Rolling Loud weekend in Miami. I saw the walls moving like the ocean. It reminded me of the California beaches I love. 
I also recorded some voice memos that I lost—mainly me blabbering about how strong women are, how they carried us and how everyone takes women for granted. I learned from the trip that I'm important to my city, my family, and that women are going to kill me. I'm a guy and women are my weakness.
Who did you work with on this record? 
The main producer is Ernest Ziembroski II. He's an artist/producer I've been working with for years and he's also a member of my label Off the Porch Records. I also worked with Sandro, Yury, Zach Fogarty, and Nate B. Zach made most of California PSA with Ernest last year. I've known Sandro for years from Jacksonville and I met Yury and Nate in New York recently. 
Tell me about "Berry." Where was it recorded, was there anyone else involved in production, and what's it about?
"Berry" was recorded in South Central, Los Angeles on a hot ass summer day. Sandro and I were sweating our asses off while recording it. Ernest made the beat the day before and Sandro did background vocals, recorded me and mixed it for me same day. Yury mastered that song and the rest of the project in New York. It's about my duck ass ex that cheated on me with an old roommate of mine while I was in New York. They both trash, end of story. I hope they see this. 
Last year in a P&P interview you encouraged readers to "take that leap." Are you still as optimistic about the music industry? What are a couple of lessons you've learned in the last year?
You only have one life, so do something productive and slight risky with it. It might lead to something super fye and if you fail, try again. The industry is eh. There's a lot of fake shit but y'all knew that already. That's just life in general to be honest. 
Lessons I've Learned:
1. Keep your day 1 team with you, before and after major success. Snakes are always in the grass and they approach you with smiling faces. You'll see a lot of those coming up in this game.
2. DO NOT GIVE UP ON YOURSELF.
3. Practice makes perfect. Being repetitive with your work ethic builds a tolerance and is easier to work and get better. Your brain is a muscle and if you keep working, it'll get stronger and stronger.