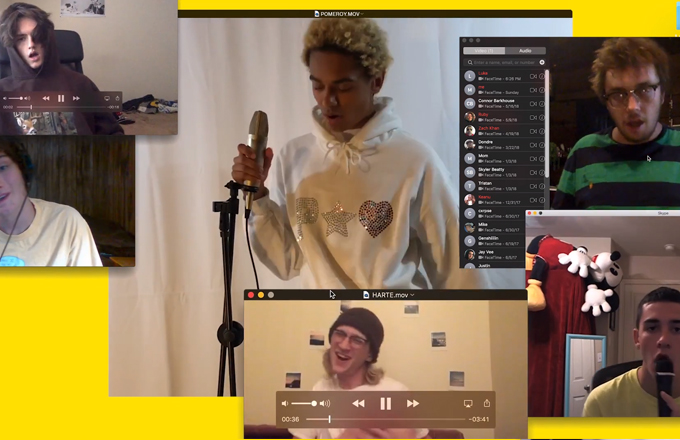 When we first met 18-year-old Ohio artist jxsh, he was dancing around his bedroom in the video for "Lipstick." The first single from his Loverboy album, which was originally scheduled to drop last summer, "Lipstick" proudly put jxsh's internet-driven sound and look on display in one of the most literal examples of bedroom pop put to video. With Loverboy finally on the horizon, he's offering a more polished, but no less interesting taste of what's to come.
The machinesix-produced "POMEROY" is his sharpest, and most immediate song to date. The video, which also includes a taste of another Loverboy track at the end with the Gabe Gill-featuring "IN MY EYES," builds on the concept of the "Lipstick" visual by incorporating a number of jxsh's friends and fans.
"The internet has allowed me to connect with so many like-minded people," jxsh told me over Twitter. "I've honestly met some of my best friends online. Being from, and living in, a lil' suburban town, not many people were like me or shared many of the same interests I have. But online, you can literally find groups of people that are all into the same thing, with like one Google search or keyword search on Twitter."
If this at all sounds familiar, it's because some of the best music of the last few years has come together exactly like this. Brockhampton, for one, famously found each other on Kanye To The. "I see it like how there's a west coast sound, a New York sound, and yeah that stuff is still around today obviously, but what's the sound called when you make a song with someone from New Zealand and France while being from Ohio?"
The colorful, no-budget video for "POMEROY" embodies the hyper-digital approach jxsh takes with his aesthetic perfectly. "I knew I wanted to bring my friends together from all over the word and just have fun," he explained. "I reached out to a lot of my friends, a few of which appear on the album like Ghost Boy Sora and Little Shadows."
Catch the premiere of jxsh's "POMEROY" and "IN MY EYES" video above, and look out for Loverboy soon when it drops August 31.