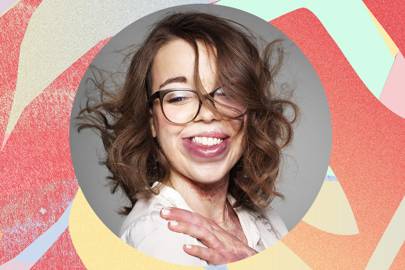 Fashion is becoming more inclusive by the season and we wouldn't have it any other way.
The latest and greatest inclusive project sees world-renowned photographer Rankin, designer Steven Tai, and the charity Changing Faces, challenge perceptions of beauty through a series of striking images of 16 different women with visible facial and bodily differences.
Dubbed 'Portrait Positive' project, the kickass campaign has gone viral across social media. If that wasn't enough, three of the women from the portrait series took to the catwalk in Steven Tai's presentation at London Fashion Week and all of the models feature in a book, too.
All the proceeds from the book will go to Changing Faces – the leading charity for 1.3 million children, young people and adults in the UK who have a medical condition, mark or scar that makes them look different. Approximately one in 111 people in the UK have a significant visible facial difference, despite being largely absent from representations in fashion and the media.
Speaking about the incredible campaign, Rankin said: "Living with a visible difference you are literally judged by your appearance and compared to what I think is a fake idea of what it is to be beautiful or even 'normal'.
"The only way to shift this perception is to talk about it and face it head on. Our amazing subjects are dealing with these issues with grace, dignity and strength. It was an absolute honour to work with them and try to create a discussion around what it is to be beautiful. To me they are all unique."
Becky Hewitt, CEO Changing Faces, said: "As a charity that supports people with visible differences, we are delighted to be part of a movement that challenges the way the fashion industry represents difference. We want to break down barriers and change the narrow view of beauty that exists in society, especially in the fashion industry. These amazing images by Rankin will help to address the stigma around 'looking different' and show that true beauty is about being proud to be yourself. We want to see brands, publications and designers work with real people of all appearances so that fashion is accessible to all."
Here are some of the kickass people who feature in the campaign…