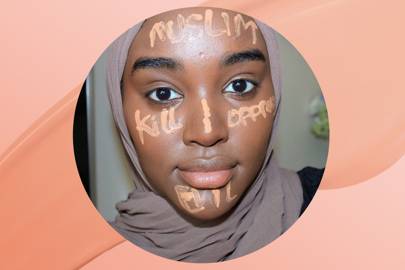 GLAMOUR's #BlendOutBullying campaign is well underway, with so many people standing up to the online bullies to say that enough is enough.
Whether you use the words as contour, write a word on your lip and blend it in, or use concealer to cover up ink, it's all about taking back the power from the bullies and creating an inspiring video to encourage others to do the same. You may recall blogger Nabela Noor's viral video from December 2017, which showed her blending away the words 'fat' and 'pig' on her face to reveal a stunning makeup look, which has inspired the challenge at the heart of the campaign.
Here are just a selection of all your amazing videos and selfies – keep them coming!
El Wood
Sade Giliberti
Emma Breschi
Hani Sidow
Bloom Twins
Emily Byrom
Sophia Mitchell
Nicole Joseph
And of course, the amazing and inspirational women who helped us launch the campaign.
Chidera Eggerue
Heather Moorhouse
Chessie King
Callie Thorpe
and Ling KT.
Our Inspiration
When we started this campaign, we wanted to find a way of showing the bullies that we're taking back the power, and nothing spoke to us more than Nabela Noor's video from December 2017. The beauty blogger took to her channel to write some of the most horrific things that had been said to her and blended them into an incredible beauty look. This strength and positivity inspired us, and we're so thankful that we had Nabela's blessing for the campaign.
Anti Bullying Pro
There are many organisations that help provide support and advice to people struggling with online bullying, but one making waves at the moment is Anti-Bullying Pro, from the charity The Diana Award, who we're partnering with for this campaign.
The Diana Award was established in 1999 by the British Government who wanted continue Princess Diana's legacy by establishing a formal way to recognise young people who were going above and beyond the expected in their local communities. In 2006, they became an independent charity, which enabled them to develop into a fully-fledged youth-led movement. Five years later, they launched their now world-famous Anti-Bullying Programme and later, in 2012, their Mentoring Programme.
You can donate to the campaign by texting GLAM18 to 70700 with the amount you wish to donate (ie GLAM18 £3). Just £30 trains one anti-bullying ambassador who can then go on to help countless others.
We hope you'll join us to call time on online bullying.