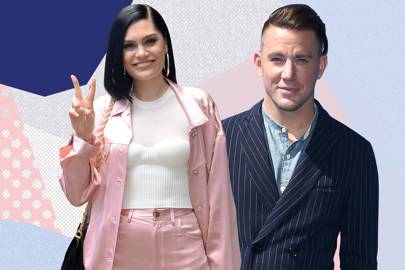 In the most 'erm, what?' news ever, Channing Tatum has apparently moved on from Jenna Dewan to Jessie J.
American websites are reporting that the actor has started dating the British singer.
And it was none other than a fan who discovered this bizarre coupling.
Twitter User, @maurerpower172, spotted them playing mini golf in Seattle.
They shared: "Who knew a mini golf job could be so crazy? Tonight I had to watch one of my asshole ex professors make out with his fiancé, then my coworker cut his hand open and had to go to the hospital, and finally Jessie j and Channing Tatum came in to play a round."
[twitter id="1048468525327634432″]

Probably could have started with the celebrity gossip…
After being asked for more info, the Twitter user followed up that they were with a bodyguard.
They added: "They were hella nice. Jessie came down and I was shook and then when I went to get them to play, Channing turned around and I was like ????. We hugged and got a pic and then I got to hear Jessie singing somebody to love with the radio at the end of the course."
[twitter id="1048587384370020352″]

The 38-year-old and Jessie, 30, are thought to have been seeing each other for a few months.
Eagle-eyed Jessie J fans noticed Channing at two of her recent concerts in Seattle and Salt Lake City.
A source confirmed the news to People today, saying "It's very new."
Channing and Jenna decided to separate in April.
In their joint statement, which was super positive, they wrote that there were no hard feelings and they had just decided to move on.
"We have lovingly chosen to separate as a couple," the statement read. "We fell deeply in love so many years ago and have had a magical journey together. Absolutely nothing has changed about how much we love one another, but love is a beautiful adventure that is taking us on different paths for now."
Jenna also explained that there's "a lot of love" in her "new normal" and they're "very positive".
She defended Channing, when rumours began to spread that he'd been "drinking" and "flirting".
Her rep told MailOnline: "Happy to clarify that absolutely none of these rumours are true. The reason our statement was so positive [was] because that's the reality of the situation."
GLAMOUR UK has contacted a spokesperson for Jessie and Channing and is awaiting comment.