It's not true when they say Fashion Editors only wear designer labels. If only it were…
The devil may well wear Prada, but the rest of us are relentless bargain hunters at heart (can you blame us, when our job requires us to wear a fresh outfit for every show, every party, every season?).
And while that may break down the fourth wall illusion that I'm sat at my desk right now with my hooves parked in some new season Stella sandals, it does mean that I know our Great British high street like the back of my hand.
Here's what I'm buying and wearing this week…
1. The contrast-stitch khaki jacket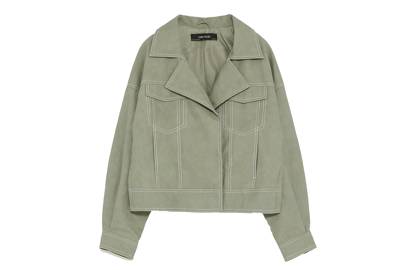 My olive-green obsession is really taking hold. Can you blame me when the high street is delivering pieces like this? Slightly more cropped than I'd tend to go for, I'm buying this jacket in an XL to not only lengthen the hem slightly but also to really emphasise and take advantage of its boxy shape.
Thanks to the contrast-stitch, I'll be wearing this with flared cream jeans for sunnier autumnal days before swapping for a darker, more charcoal pair as things get a little frostier. I'll tie in paler hues via accessories – likely a cream tote and nude cowboy-esque boots.
Buy it now, £49.99, Zara
2. The clashing two-tone mules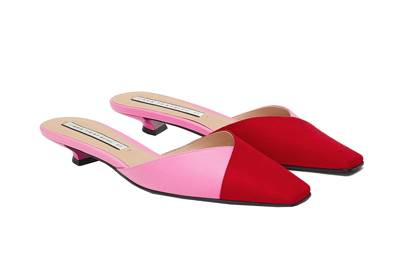 Ahh, another of my favourite colourways. Slightly more divisive than olive, clashing pinks and reds have been slowly growing in popularity this year, as have kitten heel mules. So when the two combine, I can't help but get a little giddy.
The magic of a mule is in its versatility, and while I'm planning a v casual look this weekend where this pair will be worn with a loose cropped jean, they'll no doubt see me through many an evening where my millionth 'boring black slip' requires a little zhuzh.
Buy them now, £25.99, Zara
3. The oversized asymmetric shirt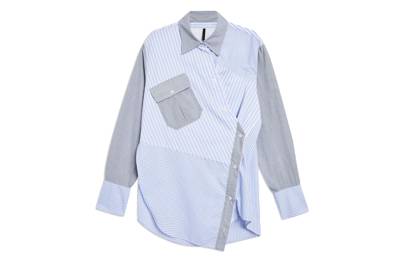 We can credit Vetements for a lot of things, but one of the brand's best #lewks that we revisit time and time again is the asymmetric shirt. Thankfully for our pursestrings the high street has caught onto our undying love for all things skew-whiff.
Offsetting a deliciously neutral colour palette of whites, blues and pale greys, this shirt not only has a wonky top pocket, but also off-centre buttons and alternating directions of pinstripe. Utter chaos, but thanks to the buttoned cuffs and shirt collar it doesn't look untidy. I'm wearing it oversized with dark navy ripped-hem jeans and flat mules.
Buy it now, £65, Topshop
4. The leather paperbag troos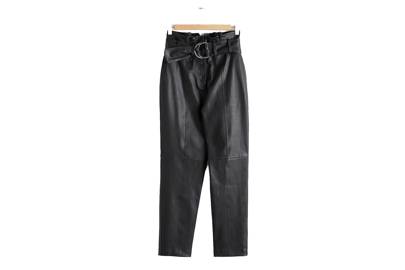 I've never been a leather-trouser-kind-of-person. There are certainly legions of you out there – Ross Geller I'm looking at you – but I've never felt that they were worth the inevitable discomfort. That was before they transformed from skin-tight sweat-tubes into butter-soft, loose-fit leg-hugs.
This pair in particular appeal to my incessant need for comfort thanks to their high-waist and adjustable belt. I'm wearing these with low-heeled pointed cowboy boots and a cropped cream knit to create a contrast of fabrics and allow an occasional flash of paperbag waist.
Buy them now, £259, & Other Stories
5. The lilac cord blazer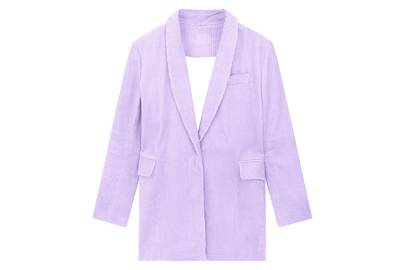 If you're still well-and-truly in the leopard-print phase of 2018 trends, then you may have not yet spotted the next big thing. Forget busy patterns, you'll soon be pining after the season's hottest fabric: corduroy. And, believe it or not, you'll be doubling up on the velvety ribbed material almost immediately thanks to the wealth of belting two-piece-suit incarnations on offer.
If there's anything I love more than cord right now it's lilac, so when I spied this blazer fusing the two I immediately stopped what I was doing and drooled. And then snapped it up, obvs. I'm wearing it with cream flared jeans right now, but have my beady eye on the matching tailored troos.
Buy it now, £60, ASOS Design
6. The olive shirt dress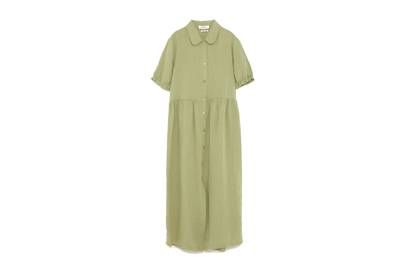 Summer-dress-weather may finally be over, but I'm refusing to let them go without a fight. Thankfully, this year has seen a surge in the acceptability of bizarre layering. Right now, for example, I'm wearing a mid-length silk blue shirt dress unbuttoned from my waist-down atop a pair of turn-up loose-fit washed denim jeans.
I envisage a similar sort of concoction for this linen number, only instead of baggy blue jeans I'll be opting for slim-fit charcoals. And when the weather gets a little chillier, I'll be slipping a thin white roll-neck beneath.
Buy it now, £19.99, Zara
7. The tie-sleeve dusky blouse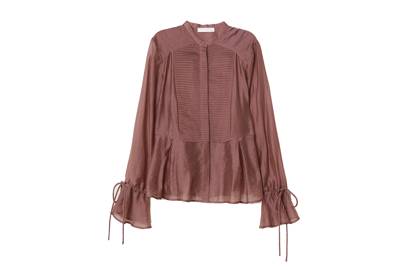 It's rare that I fall in love with a blouse, but there's something about this semi-sheer number that captured my attention. The bow-tied cuffs, the drop-waist, the almost peplum-like flare that can be tucked into a high-waist or skirt over a low one… it has all the elements of the perfect blouse. And *who knew* we were looking for one of those?
A universally flattering shade of burnt burgundy, I'm wearing this untucked over washed grey slim-fit jeans and scarlet court shoes with a low, chubby cream heel for a day at the office. I'll tuck it into looser jeans of the same shade for a more relaxed, weekend feel.
Buy it now, £49.99, H&M