H&M have revealed their collaboration with Moschino with Gigi Hadid starring in the ad campaign and we're basically throwing our cash at our screen.
The snaps, which were shot by Steven Meisel, are said to be inspired by a "1950 haute couture show".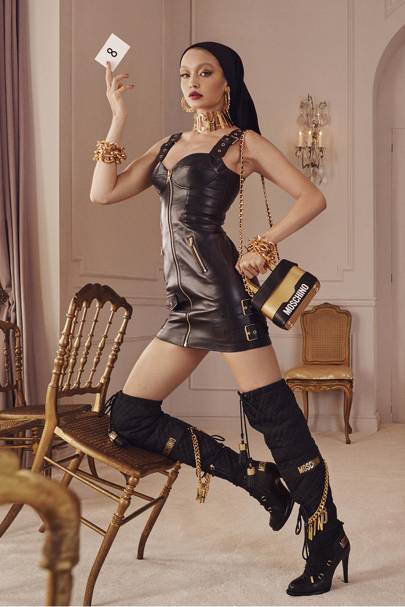 In an Instagram post, H&M said: "We told you there would be a lot of patterns, gold and sparkle in this collection, didn't we?"
Gigi wears a bodycon leather-look mini dress with a gold zip and buckle details with thigh-high quilted boots adorned with branded Moschino chains.
The model also carries a gold boxy bag and like the label's premium brand, jewellery is key to the collection; there's statement logo chokers, over-sized gold hoops and chunky bracelets.
In a second group shot, models give us a glimpse of more pieces from the range, including a gold metallic biker jacket and matching trousers, a silver sequinned hooded mini dress and Moschino branded fringed baseball caps.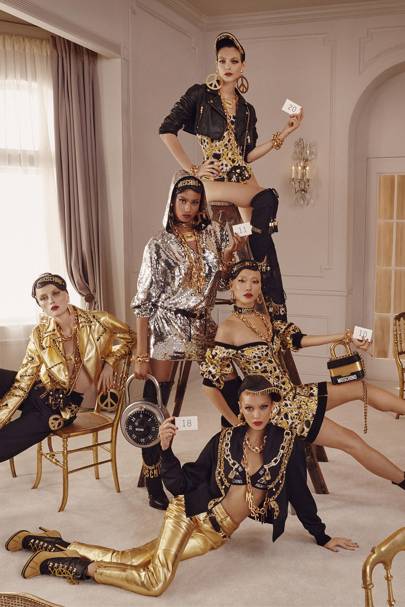 Fourteen years after their first designer collaboration, fans will be desperate to get their hands on a more affordable version of the iconic luxury Italian fashion house's range.
Moschino Creative Director, Jeremy Scott, wanted to bring bold colour combos to the range to cheer everyone up. Speaking to H&M on the importance of colour during a time in the world where the mood is pretty dark, Scott said: "I want to be a bright light in the midst of so much darkness; people need a moment, a break from it."
"If I can give people a little escape with fashion, even if it's for a minute when someone scrolls through Instagram, I'll take it. That's what I want to give."
Previous collaborations with H&M have included Jimmy Choo, Balmain, Erdem, Isabel Marant, Versace and Stella McCartney.
The collection launches in stores on 8 November so prepare for a stampede.