As well as her impeccable sense of style, Kate Middleton is equally famous for her glossy mane.
But we've noticed that each time Kate has returned from maternity leave after having each of her three children, she's been sporting a new hairstyle every time.
Looking chic as ever, Kate returned from her latest break visiting the Sayers Croft Forest School and Wildlife Garden in West London, after having Prince Louis, sporting a sleeker and shorter style than the usual bouncy curls she's renowned for wearing.
She made similar changes after giving birth to Prince George and Princess Charlotte, as according to celebrity hairdresser, James Johnson, this is Kate's way of feeling empowered again.
"Having spent nine months carrying and feeling out the ordinary, women are often desperate to feel new again", he told Femail.
"A great way to do this is with a fresh hairstyle, including a colour you've been waiting all pregnancy for."
After giving birth to son number one, Prince George, Kate returned to Royal duties one month later sporting much more conservative version of her signature curls than usual.
"When Kate returned to work, she appeared with noticeably lighter hair styled in much tighter curls to her usual look," James said.
"Often with warm undertones, lifting the hair lighter will expose more golden pigments within the hair. This can be done naturally or through sunlight abroad."
Similarly, with Princess Charlotte, we saw Kate return to duties with an even bigger change to her mane- a fringe, complete with warm gloss all over her hair to give her major post-baby shine.
Whether she's sporting those signature bouncy curls or a chic updo, Kate's hair is perennially polished.
And now, the simple secret behind her perfect updos has been revealed – and we can't believe we've never noticed before.
If you look closely at her low chignon, you'll notice she's rocking a subtle hair net. Clever!
The genius and purse-friendly beauty invention keeps her hair in place, stops it drooping and keeps those pesky flyaways at bay. We will absolutely be investing in one ASAP.
And for anyone looking to emulate Kate's look, we have good news for you.
The man who styled Kate's hair for the royal wedding back in 2011 has shared the simple two-step method he swears by for achieving hair just like the royal mother-of-two.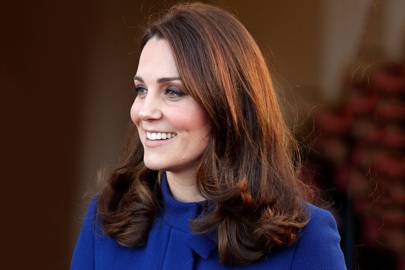 James Pryce was behind Kate's stunning wedding hair look and surprised us all when he revealed that getting the look at home requires following just two simple steps.
To style her locks, James told Cosmo that he used Redken's Curvaceous Full Swirl Cream Serum, which will only set you back £11.
He smoothed the serum through Kate's damp hair to boost the bounce.
James then recommends turning your head upside down and drying it with a diffuser. The essential step, he maintains, is using a 'high heat, low-speed' setting.
And voila, hair a la Kate!
The mother-of-two's current hairdresser, Amanda Cook Tucker, recently shared a sneak peek inside the hairstyling products she took on royal tour with her to use on Kate.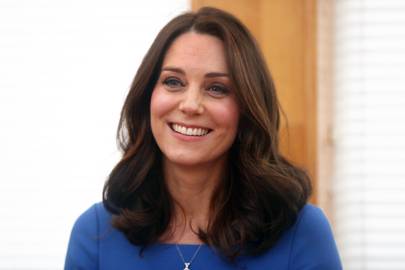 The picture shows that the royal packed two hairdryers and three different sets of hair curlers (no wonder she never has a hair out of place!).
There was also plenty of purse-friendly hair products in the suitcase, including Charles Worthington's Volume & Bounce Body Booster and the Volume & Bounce Texturising Spray, which costs £12.98 from Boots.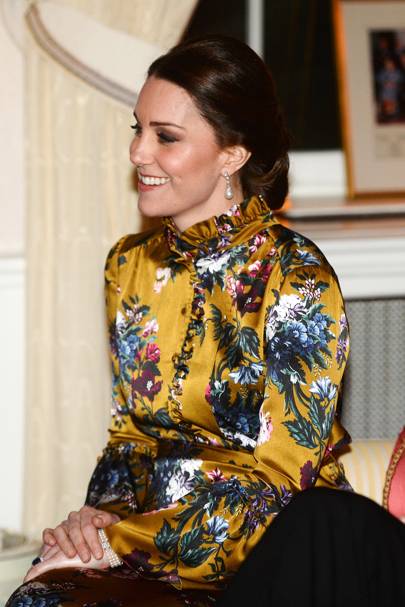 Kate also loves Cheryl's beloved L'Oreal Elnett hairspray, which costs £3.98, and the Essential Maximum Hold hairspray, also from Boots.
Within the kit is also the Wella Professionals EIMI Ocean Spritz Spray,
£8.48, Charles Worthington: Perfect Finish Hairspray, £6.99, and the Redken Pillow Proof Blow Dry Extender spray, around £13.
The royal also has a penchant for Kiehls Crème with Silk Groom, £18, and brushes her locks with the Mason Pearson hairbrush, which costs around £80.