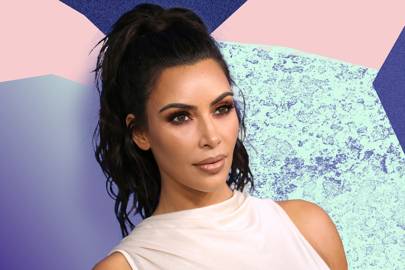 Kim Kardashian is the Instagram Queen – and of course, everyone knows that like most celebs, she gives her photos a 'little help'. So it's no surprise she occasionally gets caught out in a Photoshop fail.
And it seems that Kim has done it again – although this time it's not a clever angle or a flattering filter. In fact, it's not even a slimmed face or a nipped in waist, but she's changed her actual eye colour.
In the latest promo for her KKW Beauty range, Kimmy K showed off her amazing Ultra Beams shadows and lipgloss in the hot Insta post.
Only awkwardly, the 37-year-old didn't realise that her hairdresser, Chris Appleton, had posted exactly the same photo – but with one noticeable difference.
Here's Kimmy's first shot, which already has over a million likes…
And here is Chris's…
At first glance, there's not much difference but if you really study them both then you'll notice the Keeping Up With The Kardashians star's eyes are completely different shades.
In the mother-of-three's picture, her eyes look almost hazel coloured, while in her hair stylist's snap, they look darker brown.
The super-sleuth Instagram account @CelebFace was first to spot the difference and lots of fans noticed, too.
One said: "Brown eyes are beautiful too! Your eyes are not hazel, be proud of natural beauty."
Another added: "Why did you change your eye color?"
While one more commented: "The editing is so freaking funny!"
Despite the comments, the could just be Kim getting a bit over-eager with the filters as that can change colour tones.