Kourtney Kardashian does not appreciate being criticised for 'not working' as one online commentator found out.
The Keeping Up With The Kardashians star hit back at the suggestion being a reality star was not a full-time job when a troll mocked her for saying she needed a day off.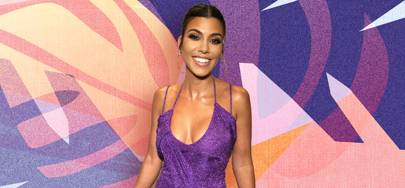 Kourtney had posted a gallery of shots on Instagram (taken by her sister, Kendall Jenner), that showed her hanging out by a pool captioned: "Sometimes you need a day away".
One commented: "But sis you never work lmao."
But the 39-year-old wasn't happy and blasted: "Let me respond to you with all the time I have…oh wait, my attorney's on the other line to discuss 6 business deals, I have a camera in my face filming season SIXTEEN of KeepingUpWithTheKardashians (you may have heard of it) and I'm raising my three amazing children…God bless you and your worry about me."
The eldest Kardashian was clearly in a feisty mood and quoted the Bible at another troll, who referenced the Lord's Prayer in their handle and attacked her parenting commenting: "Yeah give the kids to your nanny".
Kourtney responded: "Or with their father. Since you like Bible verses: Matthew 7:1-2. 1 'Do not judge, or you too will be judged'. 2 For in the same way you judge others, you will be judged, and with the measure you use, it will be measured to you."
Kourtney had her children – Mason, eight, Penelope, six, and Reign, three – with her ex Scott Disick, 35, who is now with Lionel Richie's 20-year-old daughter, Sofia.
Earlier this year Kourtney fought with her sisters, Kim Kardashian and Khloe, over her work ethic.
GLAMOUR's incredible AW18 cover star, Kylie Jenner, gets candid about her insecurities, pregnancy body and lips
She was left frustrated by their lack of support when she told them that her passion was to be an interior designer.
She told them: "Do you guys want to know some exciting news? I figured out my passion in life. (I want to) produce a show, some kind of like interior show.
Khloe sarcastically responded: "OK".
She added: "This already sounds like too much of a commitment for you. You don't like things with big commitments."
Kim backed Khloe up: "I think we're just a little bit frustrated that you never show up to do work."
The sisters also rowed about a photoshoot when Kourtney wanted to reschedule it.
Never a dull moment, eh?