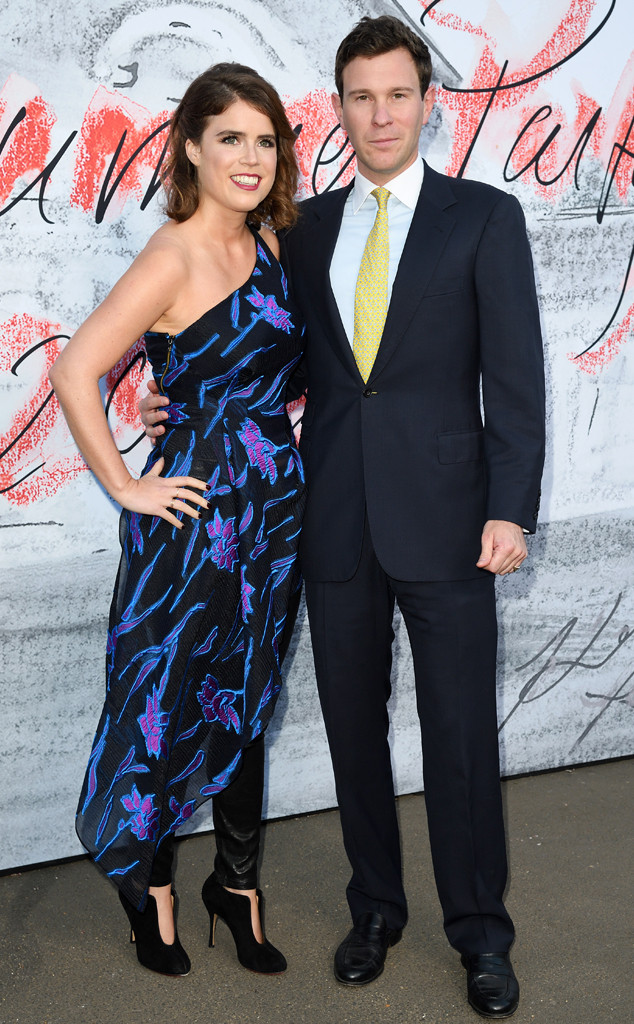 Karwai Tang/WireImage
For several long days this past January, Princess Eugenie's left hand felt agonizingly bare. While boyfriend Jack Brooksbank had proposed earlier in the month near a Nicaraguan lake, he dropped to one knee without the pale pink padparadscha sapphire he'd selected in part because "it changes color from every different angle," just like his multi-faceted gal.
With Brooksbank nervous to set the stone "until Eugenie had signed off on it," as he explained in the couple's  joint engagement interview on BBC's The One Show With Matt Baker, he waited until after his proposal to have a U.K. jeweler surround the bauble with diamonds. It wasn't until the evening of Jan. 21—less than 24 hours before they would share their news with the world via Twitter—that Eugenie was finally able to slide on the custom stunner. The verdict, she told Baker, "It feels very strange."
Of course, the unique rock wasn't the only gem on display. The TV interview (Brooksbank's first!) served as his official public introduction. Though Eugenie has been seeing the nightclub manager for more than seven years, her place in the royal hierarchy (as the youngest daughter of Queen Elizabeth II's second eldest son Prince Andrew, she was bumped to ninth in line for the throne when cousin Prince William and his bride Kate Middleton welcome Prince Louis in April) means her love life isn't always headline news.
So well-pedigreed Brooksbank has received just a sliver of the attention paid to that other commoner committing to life in The Firm. Still, the 28-year-old's journey with Brooksbank, 32, is every bit as sweet as Prince Harry and Meghan Markle's blind date success story. Take, for example, their initial introduction through friends—a moment Brooksbank recently declared was "love at first sight."
Back in 2010, the heat between the then-Newcastle University student and hospitality worker Brooksbank was enough to thaw the Swiss snow. While vacationing with mutual friends in Switzerland's Nendaz—roughly an hour from Verbier, where William was spotted showing off his best moves last year—the pair connected instantly.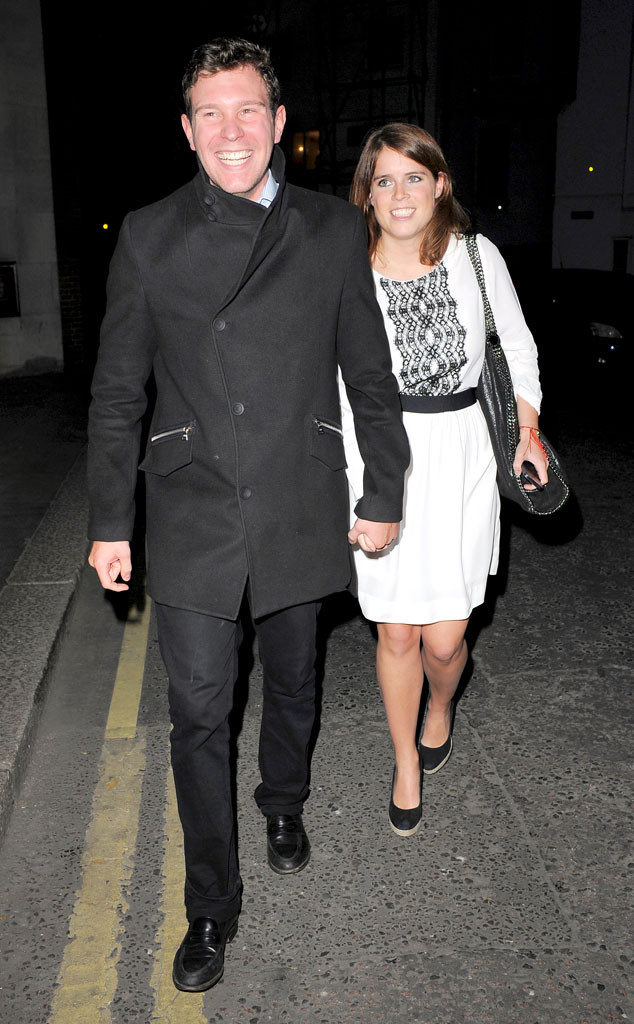 Hibner.co.uk
"We met when I was 20 and Jack was 24 and fell in love," Eugenie recounted, adding a shared ambition helped them bond quickly: "We have the same passions and drive for life." (And a shared lineage. Brooksbank's great-great grandfather, Viscount Thomas Coke, a former Earl of Leicester is Eugenie's great-great-great grandfather.)
For Brooksbank that aspiration meant forging his own path. His parents—mother Nicola and accountant father George—shelled out roughly $13,000 a semester for him to attend Buckinghamshire, England's tony Stowe school (the same spot where billionaire business magnate Richard Branson studied). But post-graduation, Brooksbank eschewed university (and his expected future in finance) to have a little fun in the hospitality industry. Per the Daily Mail, Brooksbank (once nicknamed "Barman Jack" by his pals) worked his way through a series of jobs including "meet and greeter" at wine bar Devonshire Terrace and waiter at Chelsea gastropub Admiral Codrington before connecting with British restauranteur Piers Adams and landing at trendy Chelsea spot, The Markham Inn.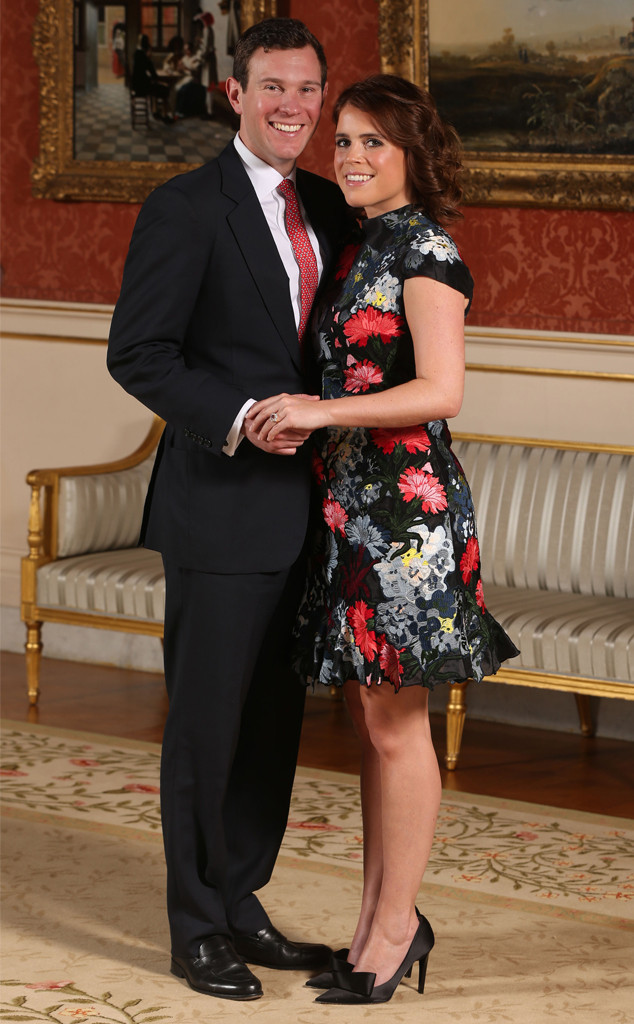 Jonathan Brady/PA Images via Getty Images
There, Brooksbank has said, according to the Daily Mail, "I had to deal with lots of strange people, and everyone was demanding. I also got to know the locals, which I loved." His next gig found him working in even more exclusive circles. London's Mahiki nightclub, which he helped run, has played host to everyone from Harry, William and Kate to Lindsay Lohan and Paris Hilton.
But despite his line of work—he's set up his own wine merchants business, is a brand ambassador for George Clooney's Casamigos tequila and has said he's dreamt of creating a line of pubs since he was 18—Brooksbank insists he's more likely to be found on the couch than the back of a banquette. "I leave work at 11pm and head home. I'm not a big drinker," he has said. "People think we party a lot but actually we are very quiet. For me it's a case of going home and watching a DVD."
While Eugenie's boyfriend worked the pre-midnight club scene, she followed a more traditional career path befitting her royal lineage. After graduating with a dual degree in English literature and art history in 2012, she decamped to the United States for a gig at New York City online auction house Paddle8. But despite putting more than 3,000 miles of distance between herself and her then-boyfriend of three years, she remained committed, relying on transatlantic flights and constant contact to remain close. "We spend a lot of time on Skype," he told the Daily Mail two months after her 2013 move. "It's great. We are still very much together."
By 2015, they were very much together in the same city, with Eugenie returning to London for an associate director position at the contemporary-art gallery Hauser & Wirth. "I've loved art since I was very little," she told Harper's Bazaar of her career choice in 2016. "I knew I definitely wouldn't be a painter, but I knew this was the industry for me." Her favorite part, the Jean-Michel Basquiat fan told the mag: "Being able to share my passion for art with people. If someone doesn't understand something, you have the ability to suggest, 'Maybe you can look at it this way.'"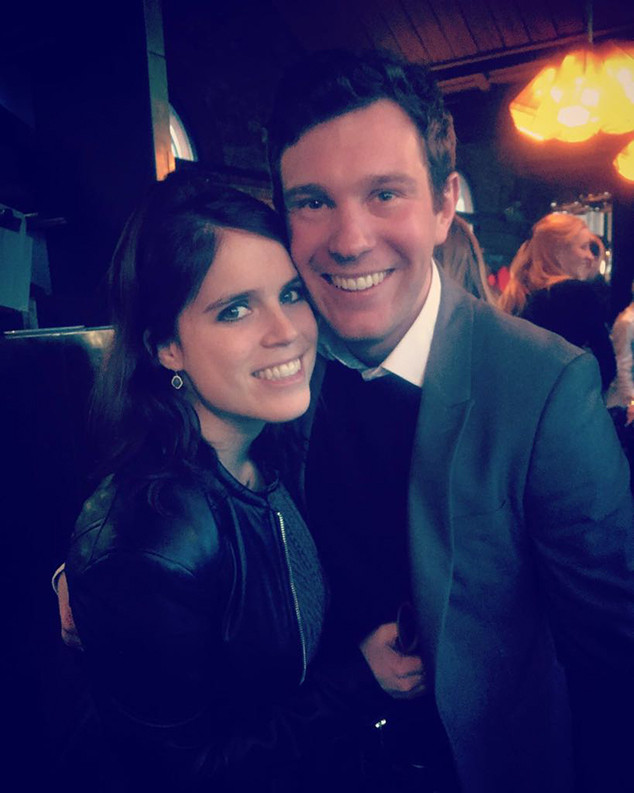 Twitter
Despite the dream gig, Eugenie refused to play the part of pampered princess. By 7 a.m. each morning, she told Harper's Bazaar, she's already scanned through her emails and hit the park for an hour-long circuit of burpees, squat jumps and lunges. "The whole lot," she said. "It's much better as I can't run for a long time."
Returning home, she'll either call her mum—that would be Duchess Sarah Ferguson—or chat with Brooksbank. (And if neither are around, "It's my doggie Jack," she said. "Yes my boyfriend and my dog have the same name—total accident!") Then, after slipping into a Sandro, Maje or Zara dress and her favorite Rag & Bone ankle boots and swiping on Bobbi Brown bronzer and Charlotte Tilbury mascara in the car ("I'm really good at doing it on the move!") she lands at the office.
But the eight hours of planning special projects, managing gallery events and supporting artists is only the start. Circa 5 p.m. she transitions to her night shift.  
As a royal, "I often have engagements related to my family or a charity I support," says the patron of the Royal National Orthopaedic Hospital and Teenage Cancer Trust, adding she and sister Princess Beatrice, "try to support Granny and Grandpa," (ahem, Queen Elizabeth and her husband Prince Philip) "in any way we can."
Brooksbank has been welcomed into the fold as well. Last June, he attended the five-day Royal Ascot horse race and in May he joined Eugenie, Beatrice, 29, and her then-boyfriend Dave Clark at London's Chelsea Flower Show. "Jack was very much by Eugenie's side throughout," royals photographer Mark Stewart told People of the event. "It was quite a big thing to go to."
When not admiring flora, the pair prefer appreciating unique eats. "I like to go out for dinner when I can," Eugenie told Harper's Bazaar. "My friends and my boyfriend love trying new places." (She in turn, loves collecting restaurant cards and airplane boarding passes: "One day, I'm going to turn them into wallpaper and paste it into my cupboard.") Some of their favorite spots include Italian spot Bocca di Lupo in London's Soho neighborhood, nearby Palomar, known for its Israeli fare, and the couch in their new Kensington Palace flat.  (Ahead of their October vows, the betrothed pair moved into the three-bedroom Ivy Cottage just a stone's throw away from Eugenie's beloved cousins Harry and William.)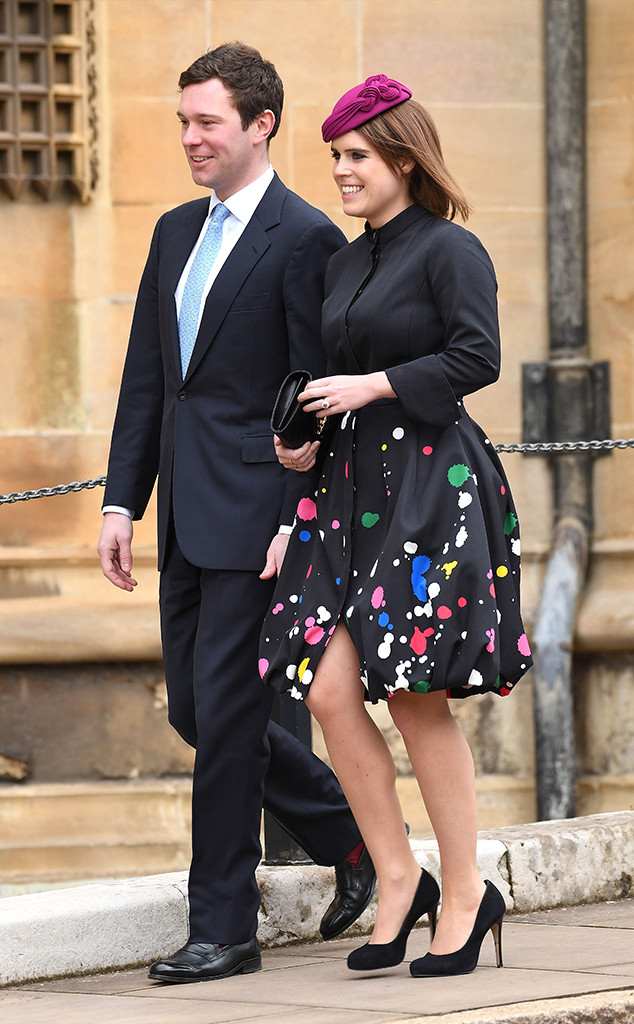 Karwai Tang/WireImage
"If I'm home, I cook and watch TV," she explains, noting she tunes into cooking programs, Outlander or How to Get Away With Murder when she's alone ("Viola Davis, she's insanely good,") or The Walking Dead if Brooksbank is around. "We're obsessed," she says, adding that their ideal evenings are "very relaxed."
Now, of course, they're more likely to be filled with chatter about their upcoming nuptials. Having waited seven years to get down on bended knee in Nicaragua (when asked if she was getting anxious for him to propose, Eugenie admitted "maybe," before adding she "knew" it would happen), Brooksbank was determined to set the perfect scene. "We had a beautiful volcano, sun was setting, birds were flying," he described in their BBC engagement interview. His future fiancée was impressed: "The lake was so beautiful," she said. "The light was just a special light that I've never seen. I actually said, 'This is an incredible moment,' and then he popped the question."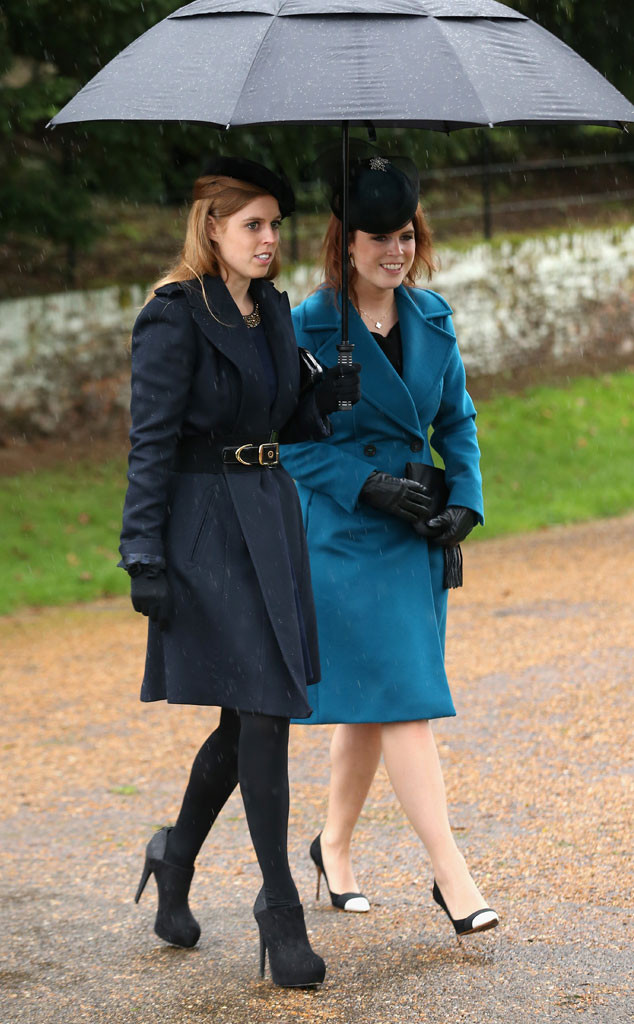 Chris Jackson/Getty Images
Their vows this Friday at Windsor Castle's St. George's Chapel will be no less spectacular. In addition to the royal family (and 1,200 hand-selected members of the public) Eugenie pals Ellie Goulding, James Blunt, Robbie Williams (his 6-year-old daughter Theodora Rose Williams nabbed the role of bridesmaid) and Elton John were on the invite list. And while Brooksbank told the Daily Mail he can't confirm that Casamigos co-founder Clooney will be on hand to play bartender, his liquor will certainly be at the ready. "I've not been kept out of all the planning," he admitted at the Wednesday launch for London spot Harry's Bar. "I get to decide some things. I'm in charge of drinks and we'll be serving Casamigos."
All other details fall under Eugenie's purview. And to hear the royal tell it, she's been prepping for upwards of two decades. In a March 15 Instagram throwback of herself and Beatrice (her maid of honor, naturally) at the 1993 wedding of their former nanny Alison Wardley she joked, "Wedding planning starts!!" So, 25 years later, she's knew just what she wanted in a dress. Revealing she'd already tapped "a British-based" pro to craft the look, she told British Vogue last month, it was "the one thing that I was really decisive about. As soon as we announced the wedding, I knew the designer, and the look, straight away. I never thought I'd be the one who knew exactly what I like, but I've been pretty on top of it."
Other decisions have come just as easy, such as the duo's choice to nix any pieces of plastic. "My whole house is anti-plastic now—and Jack and I want our wedding to be like that as well," she Vogue of working to lower her carbon footprint. And mom Fergie was confident she'd be able to work out the rest. "Eugenie is very controlled, she is so sorted," the Duchess of York explained on BBC's The One Show. "She knows exactly what she wants." 
Because, of course, the toughest decision has already been made and Mom wholeheartedly approves. "Jack is an amazing bringer of light and he brings joy," she said. (Spirits, too. Thanks to his Casamigos gig, "He'll just hand me the tequila and say, 'Come on mother-in-law and down it!'")
With that in mind, Eugenie has been able to brush off the thought of thousands of prying eyes. "I'm not stressed at all," she told Vogue. "It's very nerve-wracking because you want it to be perfect but then you realize that you're going to be with the person you love forever and nothing else really matters."