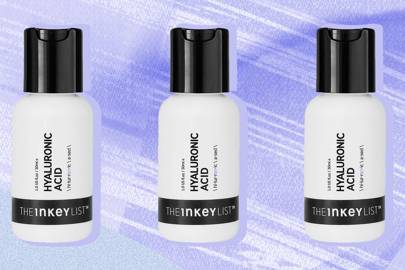 If you were devastated to see Deciem – the purse-friendly but potent skincare brand – close down this month, we've found the next best thing.
Beauty buffs are going wild for new skincare brand, The Inkey List – a collection of affordable but intelligent creams that target a plethora of skin concerns.
The brand only launched six weeks ago and has since totally sold out. We predict a cult range in the making…
So what's all the fuss about? The makers of the Inkey List pride themselves on being the pioneers of fast beauty – they can get a product to market in just 18 weeks from conception to formulation.
A collection of 15 hero products formulated by a crack team of experts and scientists, this range incorporates all the industry heavy-hitters – from retinol to hyaluronic acid – and allows you to customise your regime to suit your skin's ever-changing needs. The products contain as few ingredients as possible, all of the highest quality and at 'give-it-a-go' prices.
Responding to the demand for simpler, more straightforward products with high quality ingredients for less, the brand has become wildly popular for offering products that cut through the beauty jargon. If that wasn't enough, they have a team of dedicated skincare experts on hand 24/7 via their website and Instagram, so you can secure skincare solutions to your specific needs. Genius!
If you don't know your retinol from your salicylic acid, this is the brand for you. You won't find confusing, technical talk or exaggerated beauty marketing; instead, you'll find transparent communication, straightforward packaging and cutting-edge formulations made with cutting-edge ingredients.
The best part? Nothing costs over £10.
Race you to the waiting list!