Diamonds filled with fruit! Stilettos stuffed with tonka beans! English fields of flapjacks!
No, we're not writing the world's weirdest shopping list, we're talking about this year's most talked about perfume launches.
From spicy and saucy to floral and fresh, there's something for everyone, including the very first fragrance from our fave beauty blogger: Huda Kattan.
Together with sister Mona, the debut fragrance collection (due for launch mid-November) will feature four scents: Elixir 11, Vanilla 28, Citrus 08 and Musk 12 – designed to be layered and combined.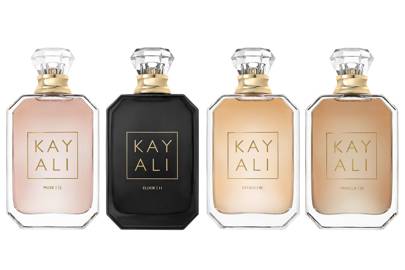 Huda recently told GLAMOUR: "It's something we've been working on for over 7 years. The new fragrance isn't actually Huda Beauty – it is the first of many sub-brands that will exist under the Huda Beauty umbrella – so there is definitely a lot of change happening!"
The 'sub-brand' is called Kayali – which translates from Arabic to 'my imagination'. The inspiration behind the collection is said to be the rich heritage, sophistication and colourful culture of the Middle East. Our noses are READY.
Scroll down to see all the other major perfume launches for 2018…
Looking for something specific? Check out our guide to the best wedding perfumes, unisex fragrances, citrus perfumes and floral fragrances.