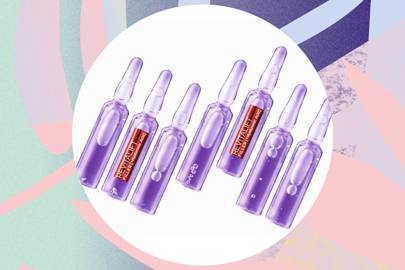 Just when you'd mastered masking, got your head around the idea of a double cleanse and worked out what the heck to do with an essence, those skin-savvy Koreans go and add another step into our routines.
Not that ampoules are anything new in the world of K-Beauty mind you; they've always come in around step 6 by which time most of us are already treating our faces to the soft glow of Netflix. But with L'Oreal Paris finally launching their own version, we're asking, 'have we been missing a trick by omitting them from our routines all this time?'
By now most of us are au fait with the idea of using a serum before our moisturiser for a hit of skin-loving actives so why complicate that by adding what could feasibly be seen as just another mini serum to our anti-ageing arsenal you might ask? Better skin, that's what!
It may sound intimidating to us 'cleanse, tone, moisturise' devotees but adding in one of these small but mighty phials can be really useful if you're wanting to target a specific skin concern such as pigmentation or dryness. A little like a supercharged serum, ampoules are targeted treatments which contain a higher concentration of actives to help give your skin a potent boost and are generally designed to be used over a specific period of time. Because of their single-use, air tight packaging they also tend to contain less chemicals and preservatives as well as being delightfully portable for an on-the-go glow or just offering up more space in your wash bag.
Alicia Yoon, founder of cult K-Beauty brand, Peach & Lily, explains; "Ampoules are intensively concentrated and pack a punch in helping the skin truly transform. They typically have a high concentration of an active ingredient and will be very focused on a specific skin concern whether that be brightening dark spots or plumping skin up. Serums are similar to ampoules, but are typically less concentrated, though they're still considered treatments for skin.
"One of our most popular products is the Mizon Snail Repair Intensive Ampoule, which helps combat acne and regenerate the skin thanks to the high concentration of snail mucin."
No wonder our eastern cousins have known about these little skincare secrets for a while. In fact, so popular are they that when L'Oreal Paris launched their Revitalift Filler Ampoules (£19.99) in China earlier this year, they sold 2000 units in the first minute and over a million units in the first three months. Which begs the question; when can we get our hands on them? (January 2019, if you're interested).
Of course, some of our favourite brands such as Sarah Chapman and Dr Barbara Sturm have had ampoules in their product lines for a while now but L'Oreal's version which are designed to intensely hydrate, are the first high street offerings. These 'replumping' heroes are chock-full of hyaluronic acid and soothing vitamin B5 for visibly revitalised, bouncier skin after just a week (based on using one a day for seven days).
Afterall, as the saying goes; big things come in small packages.