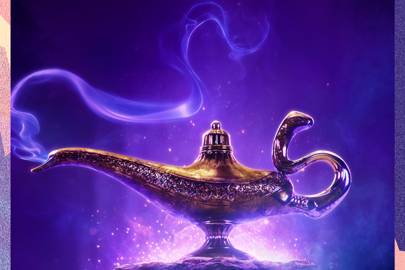 Stop everything you're doing, because Disney has unveiled a first look at the long-awaited 2019 live-action remake Aladdin, and the pics are incredible.
Entertainment Weekly shared a magazine cover showcasing the entire Aladdin cast of Will Smith (Genie) Naomi Scott (Jasmine), and Mena Massoud (Aladdin) in costume, as well as some intriguing photographs from the upcoming film…
Directed by Guy Ritchie, it looks as though the new adaptation has some major changes in store for us, namely the eponymous character of the Genie, portrayed by Will Smith.
Complete with a goatee and topknot, it's safe to say Smith has put his own stamp on the classic Disney character, which was memorably voiced by Robin Williams in the 1992 Disney cartoon.
In an interview with Entertainment Weekly, Smith explained that he wanted to bring a "hip hop flavour" to the Genie, who will take a human form and wear blue robes, as well as appear as the signature blue cloud.
"Whenever you're doing things that are iconic, it's always terrifying," Smith explained. "The question is always: Where was there meat left on the bone? Robin didn't leave a lot of meat on the bone with the character."
But Smith ultimately felt inspired that Williams had "infused the character with a timeless version of himself," resolving to do the same in his role.
"I started to feel confident that I could deliver something that was an homage to Robin Williams but was musically different," he said. "Just the flavour of the character would be different enough and unique enough that it would be in a different lane, versus trying to compete."
Aladdin is released in UK cinemas on 24 May 2019.