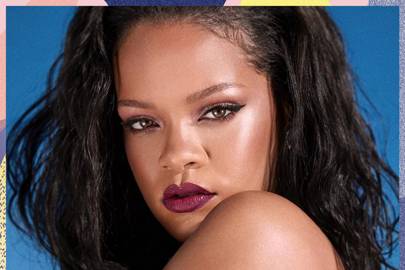 Just a week after announcing the launch of its new Pro Filt'r Hydrating Foundation in 50 freaking shades, Fenty Beauty is entering a new beauty category and going ahead and launching its first-ever eyebrow products in an impressive 14 shades.
Twitter user Christelle (@fentibetter) recorded a video from Sephora's Store Leadership Conference held in Las Vegas recently where Rihanna made a surprise appearance to reveal Fenty Beauty's newest launch.
"I was not gonna come all the way to Vegas empty handed, so we're gonna give you guys an exclusive sneak peek of one of the next products coming out. The very next product coming out," said the music and beauty mogul.
In another tweet, the Twitter user posted a video of Fenty Beauty's announcement, revealing that the brow pencils, namely the Ultra Fine Pencil, is coming in a whopping 14 shades and will include all shades from dark and light brown to red and beige shades. Makeup news account Trendmood confirmed the news in another tweet.
Fenty Beauty has proven itself as a total game-changer for the beauty industry. The company recorded $72.0 m in earned media value in just one month, beating long-established labels such as Benefit ($48.1 m) and Urban Decay ($37.0 m) to the top spot.
Fenty Beauty hasn't officially confirmed the news yet, but it is said that the Ultra Fine Pencil will hit Sephora very soon, specifically on August 23.
We cannot wait to get our hands on the new brow products and give them a whirl. We'll keep you updated when we hear more.