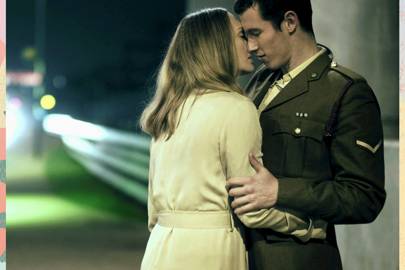 Has any TV series been as all-consuming as last year's smash-hit drama Bodyguard? Absolutely not – until now.
Enter: The Capture, BBC's pacy new six-part crime thriller. The series focuses on former British solider Sean who is released from prison after being wrongly convicted for murder in Afghanistan, but on his first night as a free man, he is involved in disturbing CCTV footage that threatens to jeopardise his freedom.
Starring Holliday Grainger and Callum Turner, The Capture exposes the extraordinary capabilities of the intelligence services and the troubling world of fake news. As facial recognition technology becomes more and more advanced, this series taps into one of the biggest conversations of today.
True to Jedd Mercurio's Bodyguard, The Capture explores similar themes of terrorism and intelligence operations. It also delivers attention-grabbing action and drama in epic proportions.
In the first episode, Sean is accused of assaulting and kidnapping his barrister Hannah after they are caught canoodling on CCTV, a claim which he vehemently denies. With the show largely taking place through surveillance cameras, viewers were left questioning whether the footage had been tampered with. Is Sean guilty? Is he a victim of conspiracy? You'll have to tune in to find out.
Twitter fans went wild comparing The Capture to Bodyguard. "I know it's early days.. but I'm just going to put it out there and say that I think the capture on bbc1 is going to be up there with the bodyguard" one user wrote, while another hailed the show "as good as the levels of Bodyguard".
Suspense, drama and complex characters, The Capture has got it all. Now all you've got to do is put your life on hold every Tuesday for the next six weeks or forever wonder what the world is raving about.